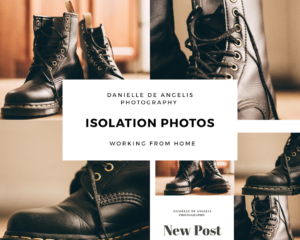 Since moving to New Brunswick, Canada, I have had to self isolate for 14 days. At first I was super bored, watching Netflix majority of the day. Then I thought, I have all this time to my self, why not being creative a photograph items I have in the house?
You can choose anything and let the creativity flow! For these images I choose my Doc Marten Boots.
I love the structure to them, and they give a great grunge feel to them.
I opted to shoot in the kitchen as it has the most space and the best natural light. I thought the floor tiles complimented the shoes and the vibe I was going for!
I kept a very open aperture (f1.8) to achieve that nice blurry background to really focus on the product.
I applied my warm toned preset to give some worth to the image and that was it! Super easy to shoot and now I have content for you guys!
Follow my Instagram to see more go my content www.instagram.com/danielledeangelisss
I hope you enjoyed these photos! Subscribe to stay tuned for more shoots!
Danielle De Angelis Photography