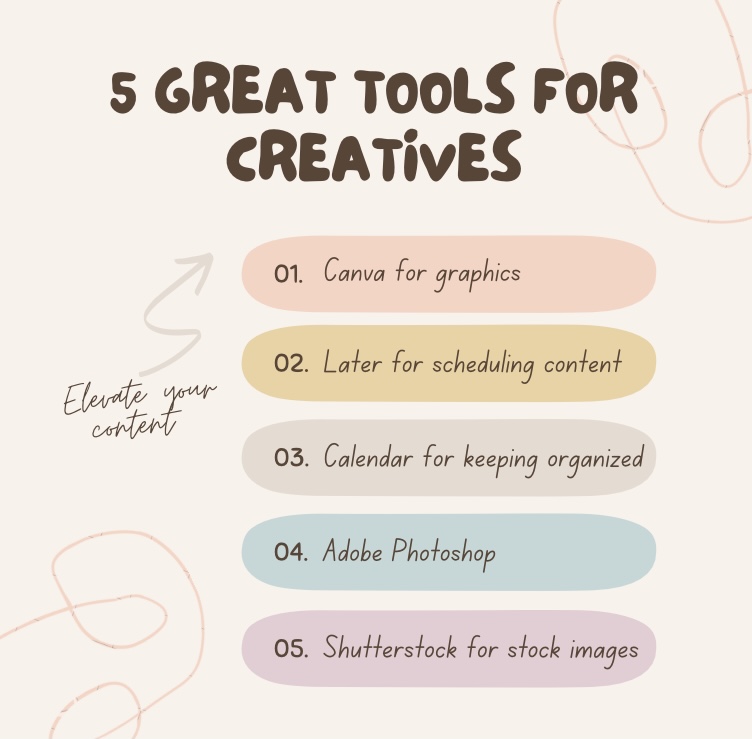 Having eye catching and engaging content is key to growing your brand's presence and driving sales. Below are a 5 Great Tools For Content Creators for creating content for brands and a social media manager! ⬇️
⭐️ Canva is an amazing tool for really any type of content! There's tons of unique templates for posts, stories, reels and more!
⭐️ later.com
Using a scheduling program makes it very easy and effortless when posting for my social media management clients.
⭐️ calendar
I put everything and anything in my calendar otherwise I will forget. It's a great way to stay organized and on top of tasks and projects.
⭐️ Adobe Photoshop is an amazing tool for creative with endless possibilities. I mainly use it for my social media management clients and editing product photography.
⭐️ Shutterstock is a great resource for stock images to use for social media management clients with thousands of high quality images to choose from.
What are your favourite tools and programs to use when creating?
Thank you for reading about 5 Great Tools For Content Creators!
Contact Me
Creating high quality content for product based businesses!!
Specializing in product photography & stop motion animations of skincare, cosmetics, and lifestyle products! 
To view more of my work click here!
Follow me on Instagram and Youtube to see more behind the scenes content on photography and social media management.
If you are interested in booking and getting more information, please click this link to go over to my booking page and fill out the form. I will get back to you as soon as I can!